BI-WEEKLY MONDAY NIGHT RACE MEETINGS
Eckington Civic Raceway is a small friendly club based in the village of Eckington which is located between Sheffield and Chesterfield. We race fairly but focus of the fun side of RC Racing with our main class being the cheaper Tamiya brushed touring cars. Other indoor classes are more than welcome provided they are not to powerful for our smaller circuit. There are a wide range of abilities at the club from new juniors to experienced racers that are happy to help with advice and setups.
The track is Prima Felt carpet outlined with white down pipe. It's smaller size is perfect for close racing with our regulars. The civic centre has free parking, plenty of space for pitting and great catering facilities. Our club nights are fun, fast and full of action.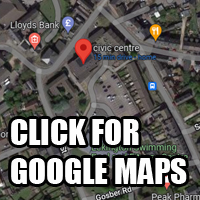 Eckington Civic Centre, Market Street, Eckington, Sheffield, S21 4JG
Track Type : Indoor On Road
Track Surface : Prima Felt Carpet
Track Setup : Setup Before Meeting
Track Markers : Light Piping
Size: 20m x 14m