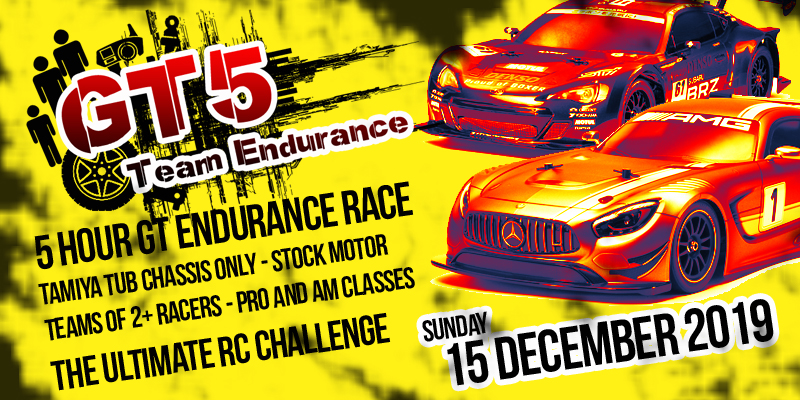 Sheffield RC Racing have a history for putting on some amazing "special" events. Team Endurance races have got to be one of the best of these types of event in terms of fun and excitement. Being part of a team removes a lot of the disappointments (we all sometimes have to face), while still keeping the same high level of competition we all love.
Our GT5 Endurance is going to be an extra special event. Chassis's will be restricted to Tamiya Tub platformed cars only, so the main challenge will be getting the cars to survive 5 hours of racing before finding any performance gains out of their simplistic designs. There will be strict rules on the GT body shells that teams can run so that the event will visually look epic. It will be like watching a mini Le Mans 24hr race with the shell details and handling characteristics of Tamiya cars. An affordable control motor will also be applied to make sure the racing is fair for all. With up to 12 teams on the large Killamarsh track, this will be 5 hours of close battles and lots of RC racing action.
Full rules can be downloaded here (Last updated 03/12/19):
GT5 Endurance Information Pack
Confirmed Teams - 1 SPACE LEFT!
No

Team Name

Racers

Chassis

Sponsors

Livery

17

Team SRC


GT5-AM

Chris Ratcliffe (C)
Ebony Taylor
Peter Gill
Peter Ellis

TT01e
Uncle Steve
69

Wombwell Truckers


GT5-AM
Keith Hardiman (C)
Mike Mansel
Steve Putt
Martyn Peachey

TT01e

36

Team Royston


GT5-AM
Michael Royston (C)
George Royston
TBC
TT01e
46

Team Rubbins Racing


GT5-PRO
David Underwood (C)
Steve Baggley
Archie Underwood
Kevin Creaser
TT01e
33

Top Banana


GT5-AM
Tom Berry (C)
James Pitchford
John Yarnell
TT01e
7

INITTOWINIT


GT5-PRO
Dave Sedgwick (C)
Charlie Gill
TBC
TT02-s
44

Hobby Circuit


GT5-AM
Stuart Evans (C)
Carter Evans
Chris Parrott
Lee Mosley
TT01e
Hobby Circuit
6

Team Crash & Burn


GT5-PRO
Lance Walker (C)
Michael Redshaw
Colin Jackson
Paul Smith
TT02
12

MaccyDees AMG Motorsport


GT5-PRO
John Fitzpatrick
Mike Van Ska
James Geener
David Hough
TBC
##

Team Blazing Rotors


GT5-PRO
Ricky Lee
JK
Greg Allen
TBC
22

P2P Racing


GT5-AM
Hugh Sawyer
Matt Hollaway
Paul Goldsmith
TBC
TT02-s